First Captain's Company,
The Earl of Stamford's Regiment of Foote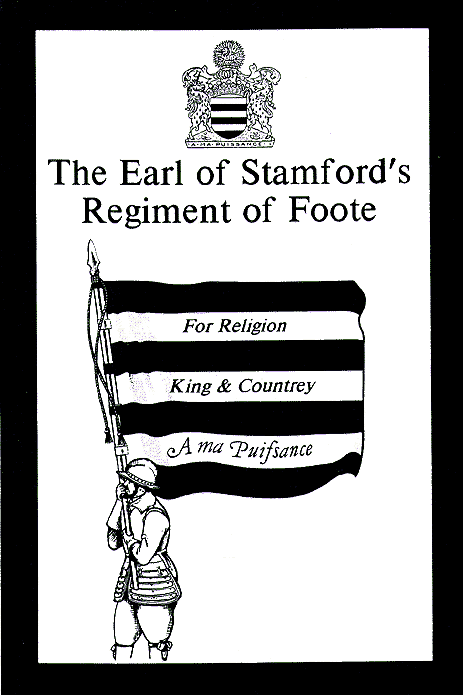 Regimental Information
First Capt's Co'y
Contact: David Luckhardt (Lieutenant, Commander), email .
Geographical Base: Northern California, mostly San Francisco Bay Area.
Current Members: 1 Lieutenant, 1 drummer, 10 soldiers, 5 campfollowers.
Membership Policy & Fees: Formed late 2000 from an existing Sealed Knot unit, Capt. Gray's Co'y.
Uniform: Wedgewood Blue wool soldier's coat lined in white wool, wool breeches (color choice by soldier, as long as it is a muted dye), felt hat or English Bonnet, linen shirt, various color wool stockings (optional white, grey or linen oversocks), plus proper style shoes. Note that coat/breeches buttons are made of wood, or pewter for officers. In addition soldiers were issued with a leather baldric & scabbard for their sword, and a leather snapsack for belongings (wool blanket, eat ware & personal items). All leather should be brown (not black) oak- or oil-tanned. Optional are leather gauntlets, but required for fencing skirmish.
Weapons: Matchlock musket, musket rest, sword, pike.
Colours: Blue field with one white unicorn painted in center; St. George' s canton in upper left corner (1/6th of field); blue sleeve; Blue tassels & cords of 2' length. Each Captain's company (lst-7th) has one white unicorn, with those of the Colonel's being a plain field without St. George's canton, Lt-Colonel's a plain field with St. George's canton.
Stamford's History
This history is from the Sealed Knot Stamfords Handbook, and can be downloaded as a MS Word 6 document "StmfrdsHandbook.doc" .

A longer and more accurate history of Stamfords, researched and written by Bob Giglio, a Word 6 file titled "Earl_of_Stamfords.doc".
"FOR RELIGION, KING AND COUNTRY"
An outline account of the Earl of Stamford's regiment of foot in the first Civil War.
1642
Henry Grey was created Earl of Stamford in 1628. He became a zealous parliamentarian and was appointed Lord Lieutenant of Leicestershire in 1642. After securing the county magazine for parliament and moving most of it to his house at Bradgate, he became the first man in the growing conflict to be declared traitor by King Charles. By the outbreak of war Stamford had succeeded in raising a foot regiment and a troop of horse for the service of parliament. The officers of the regiment in September 1642 were:
Colonel
Henry Grey, Earl of Stamford
Captains
Thos. Savill
Edw. Gray
Charles Blunt
Peter Crispe
Isaack Dobson
Arnold Cosbie
Jo. Bird
Lt. Colonel
Edward Massey


Sgt. Major
Constance Ferrer

Lieutenants
John Clifton
James Harcus
William Hewet
William White
James Bock
Robert Hampson
Jo. Hemens
Nath. Tapper
Robert Mallery
Hen. Cantrell
On 20 September Stamford and the regiment made a rendezvous with the Earl of Essex and his force at Dunsmore Heath near Rugby. The combined force then began a march for Worcester, which was reached on 26 September. Four days later a composite body made up of contingents from all Essex's foot regiments with some horse set out for Hereford. Lt. Col. Massey was in charge. The city secured, Stamford with the rest of his regiment arrived on 2 October to take up his post of governor.

The soldiers were unpopular and there were frequent reports of plundering, mainly by the horse. Late in October, 20 musketeers mounted to act as dragoons, were part of a force despatched to Presteigne where they succeeded in breaking up and capturing a group of royalist plotters. Early in December, in the face of growing local resentment and short of supplies and money, Stamford decided he was too isolated in Hereford. He therefore abandoned the city and marched his men to godly Gloucester. In Gloucester Stamford was appointed Commander in Chief of the counties of Hereford, Gloucester, Shropshire and Worcestershire. Shortly afterwards he was ordered to the West of England. Taking his horse with him, he departed leaving Massey as deputy governor and the regiment as the garrison of Gloucester.

1643

Sudeley Castle was taken on 29 January 1643 but had to be abandoned shortly afterwards due to the threat posed by Prince Rupert's storming of Evesham. Two companies of the regiment detached to Evesham were lost in the storming. Rupert then summoned Gloucester to surrender but was unable to mount a siege after his call was rejected. In late March a combined operation between Sir William Waller's army and the Gloucester garrison resulted in 1500 Welsh Royalists being captured at Highnam House. Waller had been able to cross the River Severn using boats sent down by Massey.

Waller and Massey combined again on 12 April, surprising the garrison of Tewkesbury and capturing 300 of the enemy. On the following day, Wallers horse were routed by Prince Maurice at Ripple Field outside the town. Massey's company of bluecoats tried to hold the position but were finally broken. Reinforcements hurrying out from the town caused Maurice to draw off. Two weeks later Waller and Massey were on the offensive taking Hereford. on 18 May the city was abandoned for want of men to garrison it. Waller marched away leaving the regiment as the sole force of parliamentarian regulars in the district.

With the fall of Bristol to Prince Rupert on 29 July there was feverish activity strengthening the defences of Gloucester. A party from the regiment, commanded by Captain Blunt, captured ten royalists outside the city in early August. By 10 August the city was under siege by the king with an army of 30,000 men. During August there were frequent sorties from the city. officers of the regiment recorded as leading these included Harcus, Gray, Mallery and Crispe. The unfortunate James Harcus was killed on 15 August. The city held out and on 4 September the besiegers made what was to be their last attempt at storm. On 6 September Essex's relief column was close to the city, entering in the next day. Essex brought supplies but no reinforcements, leaving the city on 10 September for London.

Massey vainly tried to obtain supplies as royalist activity increased in the area. All through the autumn and winter there were small clashes between the two sides.

1644

With the spring came reinforcements and supplies and Massey was able to go on the offensive. He was repulsed at Newent and Tewkesbury in April, but in May took Littledean, Westbury, Newnham, Wilton Castle and Malmesbury. Attempts to take Lydney and Monmouth were unsuccessful.

300 of Massey's foot took part in the retaking of Tewkesbury on 6 June. This success brought Massey many recruits but not the means to pay them. The king determined that Tewkesbury must be retaken. In mid July, 200 of Massey's musketeers defeated a party of royalists from Worcester making their way to Tewkesbury. After this success at Corse Lawn, Massey's men themselves pressed on to Tewkesbury. Their arrival caused the royalists around the town to withdraw.

At the end of July the royalists made a two pronged thrust towards Gloucester. Massey surprised an outpost of the party under Colonel Mynne at High Leadon, causing the main body to fall back into the village of Redmarley. Early an the morning of 27 July under cover of mist, Massey attacked and defeated Mynne's force before reinforcements from Worcester were able to join them. Mynne was killed and his force shattered. Massey had been delayed at the start of this operation by the aftermath of a duel in which Sgt. Major Gray of the regiment was killed by Major Hammond of the horse!

The garrison at this time is recorded as being very unruly, having received no pay for many months. Governor Massey was having a series of arguments with the committee of Gloucester, quarrels which were to rub on for many months.

Following an unsuccessful attempt to take Berkeley Castle in early September, Massey's men broke down defensive works being constructed at Beachley. Colonel Kyrie was talked into surrendering the town of Monmouth by Massey. Ludlow and Chepstow were taken soon afterwards and the garrison at Wonaston Court relieved. Massey personally led an attack of 40 musketeers on a group of royalists engaged in repairing the works at Beachley which had been slighted the previous month.

A party of Welsh recruits bound for the king were followed by Massey towards Evesham. In Massey's absence the Welsh were able to retake Monmouth. Amongst those captured was Captain Mallery of Stamford's regiment and three other of his officers along with 200 men. Massey tried to relieve his small garrison at Pembridge Castle near Monmouth. He was unsuccessful and the garrison had to surrender.

December saw a great deal of royalist activity around Cirencester, Evesham and Gloucester. Massey was able to achieve little and his men remained mutinous throughout the winter for the continual lack of pay. Colonel Wintour's royalist garrison gave Massey constant problems and he had to establish garrisons at Ruardean, High Meadow and Nash in an attempt to contain them. Massey caught up with some of Wintour's men on 22 February as they were trying to fortify a passage across the River Wye. The royalists were driven into the river and many drowned.

1645

By March, local clubmen were driving off marauding royalist horse and Massey was involved in tricky negotiations with them near Ledbury and Hereford. In April a force under Prince Rupert was active in the Forest of Dean and there were frequent skirmishes with parliamentarian forces. On 22 April Massey was surprised in Ledbury by Prince Rupert and his men. Accounts of the action are confused but Rupert was certainly the victor. Massey appears to have been able to use his horse to delay those of the royalists so enabling his foot to escape.

On 24 May Massey was appointed a General of the Western Association. On 25 May he and his men took the town of Evesham by storm. This was probably the last engagement of the Earl of Stamford's regiment, for on 29 May the Lord's Journal notes that it was ordered that the Earl of Stamford's regiment was to become Colonel Charles Blunt's. This was the same Charles Blunt who was third captain in 1642. Massey departed to the west in early June.

The Earl of Stamford and his foot regiment played a not insignificant part in the first civil war. As noted above, Stamford was the first man to be declared traitor by the king.

Peter Young in his book Edgehill states "This must be rated as one of the most successful Parliamentarian regimentsIt certainly owed much to Massey's energy and example."

The regiment's successful defence during the siege of Gloucester had an important effect on the further course of the war. Contemporary writers regarded the siege as a turning point. Bulstrode Whitelock wrote "most men were of opinion that when the King went to Gloucester, if he had (instead) marched up to London, he had done his work" - meaning the king would probably have taken London and ended the war. An interesting point with which to end this account.




The First Captain of the Earl of Stamford's Regiment of Foote, Army of Parliament, invites all interested Soldiers and Women to join his Company. Subscribe to our mailing list for information about California English Civil War events.