My Flickr album for
2022
My Flickr album for
2019
My Facebook album for
2019
My Facebook album for
2018
My Facebook album for
2017
My Flickr album for
2016
My Flickr album for
2015
My Facebook album for
2014
My Facebook album for
2013
Where:
Big Lagoon County Park, at the south-west end of Big Lagoon, part of the Humboldt Lagoons State Park
Big Lagoon is just north of Sue-meg / Patrick's Point State Park, Trinidad CA
When:
May 17 through 21, 2023
Who is attending, bringing what?
Attendees often include members of the Sacramento-San Francisco and Lost Coast chapters of the Traditional Small Craft Association, some of the Oregon Coots, and of course the Humboldt County locals. All types of boats are welcome at this messabout; traditional or modern, wooden or fiberglass, power, sail or oar.
Messabout schedule and activities
Like most messabouts there is no formal schedule of events. The messabout hosts will be there by Thursday evening, and anyone is welcome to come hang out with us at the small group campsite. We will host a potluck dinner Saturday nights, and hope for some music and singing too. Weather permitting, we will motor, sail or row towards the north end of the lagoon Saturday morning for a picnic lunch, and plan to catch the prevailing north-west winds back to camp.
How to get there:
From the north, take Hwy 199 from Grant's Pass or Hwy 101 from the Oregon coast to Crecent City, then south on 101 to Big Lagoon. Big Lagoon Park Rd is the first right past the bridge across the lagoon.
From the east, take Hwy 299 over from Redding on I-5, head north on 101 as below.
From the south, head towards Eureka -- last chance for large grocery stores and serious shopping. Continue north on Hwy 101 past Arcata and Hwy 299, then on through Trinidad. About 2 miles past the entrance to Patrick's Point State Park take the left onto Big Lagoon Park Rd. This turn can be tricky, as there is only a small sign and no dedicated left turn lane.

Big Lagoon Park Rd can be hard to follow, as it makes an angled left at Lynda Lane, then the next sharp right up a hill towards the beach houses and Park. Roads are narrow and rough, so go slow with your boat trailers! Follow signs towards the launch ramp, as the road will angle back west/left past the beach houses. If you get lost, head back and look for signs to the County Park.
Boat ramp:
The launch ramp area and campground beach are suitable for launching boats that can be carried. Larger boats must use the free ramp, where day-use parking costs $2 but no overnight parking is allowed.
Camping:
We will camp in the small group site at the County Park, near the restrooms and showers, and stake out a few of the other campsites along the shore. Since no reservations are allowed, not everyone may be able to camp at Big Lagoon Campground.
Messabout participant's boats can be pulled up on the clay beach on the north shore of the Big Lagoon County Park campground, or anchored out from the beach overnight. With prevailing afternoon winds from the north-west, the campground beach is a lee shore, but the swell never gets very large and winds die down in the evening.
Camping on boats is not officially permitted, but enforcement is unlikely for boats large enough to have porta-potties. We have seen larger boats anchored further north in the lagoon in the lee of the sandbar in the evening.
Sue-meg State Park formerly known as Patrick's Point State Park takes reservations and dogs, and other campgrounds are nearby, including several RV campgrounds.
Weather and boating/sailing conditions
Weather along the coast can be cool and foggy at any time of year, and although rain is less likely by May everyone should be prepared for sprinkles. As mentioned above, the Humboldt Lagoons usually get a brisk afternoon breeze off the ocean from the north west, but the swell never gets very large and winds die down in the evening. Sailboats shouldn't go too far downwind as we cannot provide a motorized tow back to camp, and walking the boats along the shore is not always an option.
The Humboldt Lagoons were created by rivers flowing into the ocean and forming large sandbars, which protect the lagoons from all but the highest storm tides. The lagoon waters are very protected (particularly near the sandbar) and quite suitable for children's swimming, floating and boating. But swimming or even wading in the ocean can be dangerous due to rogue waves, riptides and strong currents.
Other Facilities and Attractions:
There are flush restrooms near the ramp and in the campground. Showers in the campground take quarters.
There is a picnic area near the ramp.
There is very nice hiking north along the sandbar between the lagoon and ocean, as well as south to Agate Beach and Patrick's Point, and many other locations. Just up the coast past Orick is one of the access roads into the beautiful Redwood National Park.
There is parking at the boat ramp plus limited parking at the campground. Parking at the Park's boat ramp costs $2 per day but overnight parking at the ramp area is not allowed.
Gas and food are available at the towns of Trinidad (about 8 miles south) and Orick (about 10 miles north), so stock up before you arrive. Trinidad also has civilized lodging available.
There are a variety of other boating destinations in the immediate area. Just north up Hwy 101 is Stone Lagoon, where launching from the gravel beach costs a small fee. Stone Lagoon features a boat-in-only campground, with a primitive outhouse and no water. The Visitor Center at Stone Lagoon doesn't open until June and its bathrooms are closed.
Maps
Photos from events at Big and Stone Lagoons
I've attended a number of boating events at Big and Stone Lagoons with Morgan's Companie, my historical reenactor and small boat friends in Eureka. Their Stone Lagoon events are invitation-only and semi-historical-costume, but their Big Lagoon events are more modern and include families and friends from all over.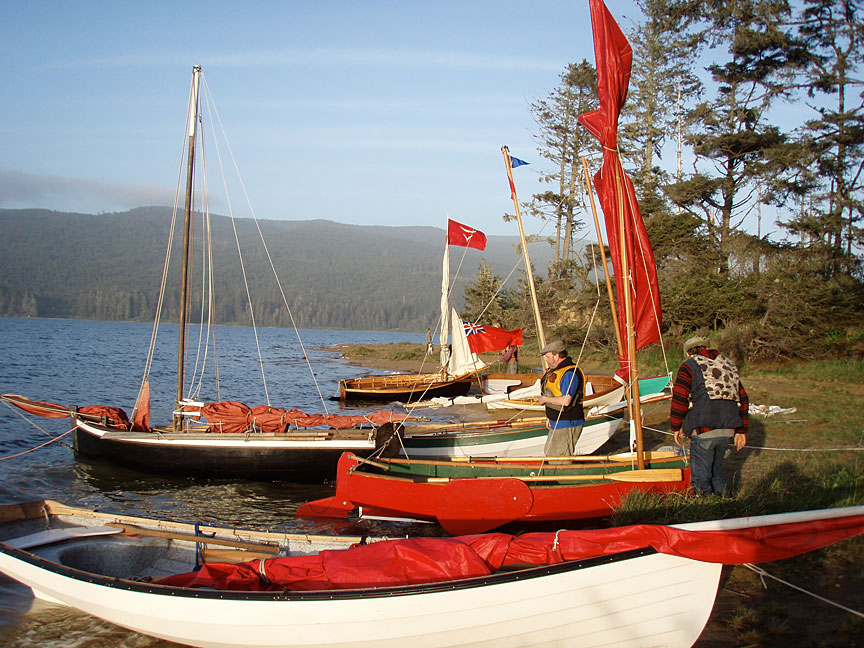 Messabout boats on the campground beach, 2009.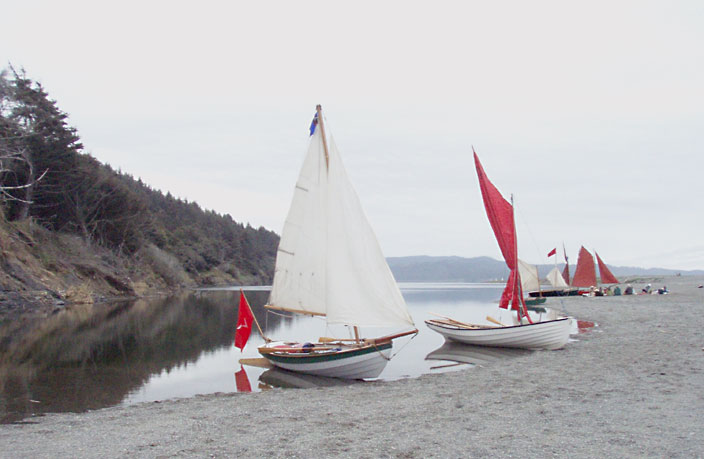 Messabout boats at the north end of the Lagoon, 2008.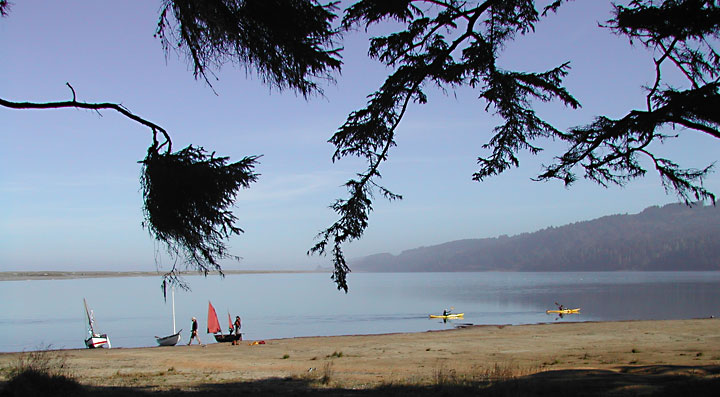 Morgan's Companie boats at Big Lagoon on the clay beach by the campground, 2006.
My photos of the 2008 Big Lagoon Messabout

John Kohnen's Flickr photos of the 2008 Messabout

Morgan's Co'y Stone Lagoon event 7-2007

Morgan's Co'y Big Lagoon event 9-2006

Morgan's Co'y Big Lagoon event 5-2006

Morgan's Co'y Big Lagoon event 9-2005

Morgan's Co'y Stone Lagoon event 2005 as a 2.3Mb QuickTime movie

Morgan's Co'y Stone Lagoon event 2004


Messabout Location Links -

http://www.stateparks.com/humboldt_lagoons.html
http://www.parks.ca.gov/default.asp?page_id=416



Put "Big Lagoon" in the subject line of an email to for more information about this event.